The Junior Board of Rock Island
About The Junior Board of Rock Island
Junior Board began in 1935. For more than 80 years, members of the organization have donated their time, efforts and personal funds to make the nonprofit organization succeed.

We are women joined in friendship, working together to support children in our community, primarily by supporting our Project Nest program through direct volunteer service and fundraising for their child-related causes, which provides support and encouragement to new parents and their babies.

But we don't stop there- as well as supporting the Nest program, JBRI also allocates funds to over 40 other non-profit organizations in our community, helping to ensure children have what they need to live a healthy and successful life.
News
JBRI Announces new 2020-2021 President Alli Haskill

We're proud to announce our new 2020-2021 Junior Board of Rock Island President, Alli Haskill! We asked her what she loves about JBRI, and what she looks forward to as President in the year to come, here's what she shared: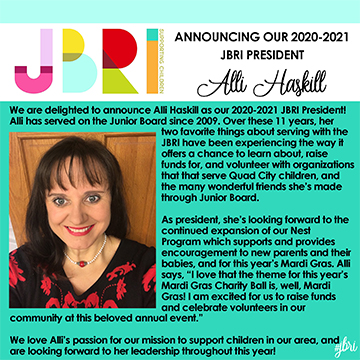 2021 Mardi Gras Charity Ball
The Junior Board of Rock Island presents the 82nd Annual Mardi Gras Charity Ball on Saturday, February 13, 2021 to be held at the Quad-Cities Waterfront Convention Center, 2021 State Street, Bettendorf, Iowa.